---
Prize Raffle
Enter by October 31st to Win!
Tell us about your tech needs for a chance to win!
Complete our brief 10 question multiple choice survey about the IT needs of your company & be entered into a raffle for one of 40 great prizes.
Prizes Include: iPad, Surface, Smart TV, HomePod, Speakers, Headphones, & more..

TAKE THE SURVEY HERE

About ATI
ATI is your supplier agnostic trusted technology advisor. We're third party neutral, able to represent hundreds of providers in the telecom and cloud world; a consultant and broker all rolled into one. Our 35+ year tenure and large client portfolio has attracted the attention of all the major providers in the tech world, allowing us to thoroughly vet each one. We know their strengths and weaknesses and consider the needs of your industry, locations, unique systems & strategies when developing a plan of action. It's more about finding your business the right solution, since we have no direct ties or quotas from the manufacturers. 
We'll negotiate rates & deals on your behalf with better pricing than had you gone direct, & best of all you don't pay ATI one cent. We are one of the few companies with the certifications and capabilities to design, install, & support your new solution, giving you a reliable single contact.
Contact Us:
630-577-2680
Raffle Terms & Conditions
Must be 18 or older and a current employee of a valid business to qualify. No purchase necessary. Must provide valid phone number and email. Must fill out survey entirely to be entered. Limit 1 entry per company. Entry does not guarantee a prize. Raffle valid through October 31st 2018 at 11:59PM CST. Raffle winners will be announced by November 15th 2018 at 12:00PM CST. Winners will be selected at random. Winners MUST claim prize by November 30th 2018 at 12:00PM or forfeit their prize. Note, that not all items may be exactly as shown. Prizes are not redeemable for cash. Free month and guaranteed pricing valid through 12/31/18.
---
Moving? Adding Offices or Services?
Union and Non-Union cabling shop
No cost onsite survey
No obligation proposal
Phones, Computers, Cameras
WAPs, MDFs, IDFs


Schedule a no obligation Cabling Survey with ATI today
.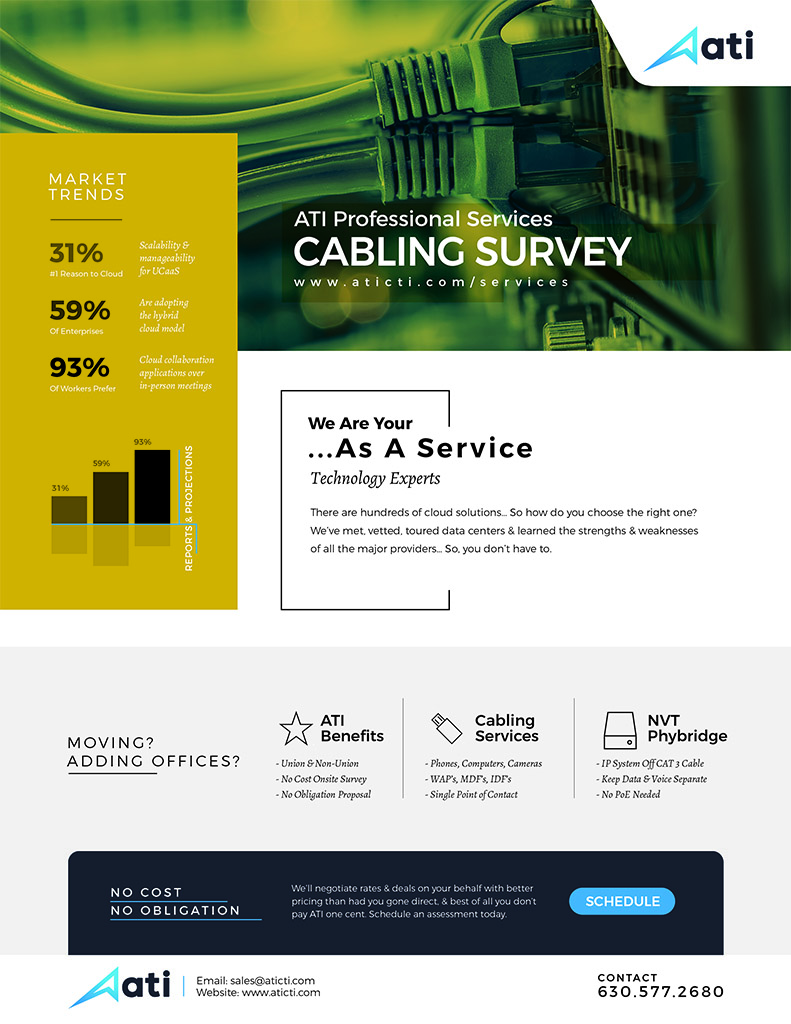 In-House Union and Non Union cabling & low voltage wiring operation
 Phone Systems, Computer Terminals, Wireless Access Points, Cameras
 New Buildings under construction or your already built and longstanding office
 Let ATI take care of every aspect of your next IT upgrade, why have so many vendors, and so many point of contacts
Learn more about cabling here
.
---
Moving? New Locations? ATI can help:
Relocate phones or analyze new solution
Work with your carrier to move circuits
In-house low voltage cabling team
Cloud consultation for strategic apps
Co-Location strategies


Schedule a no obligation Moving Breakdown with ATI today
.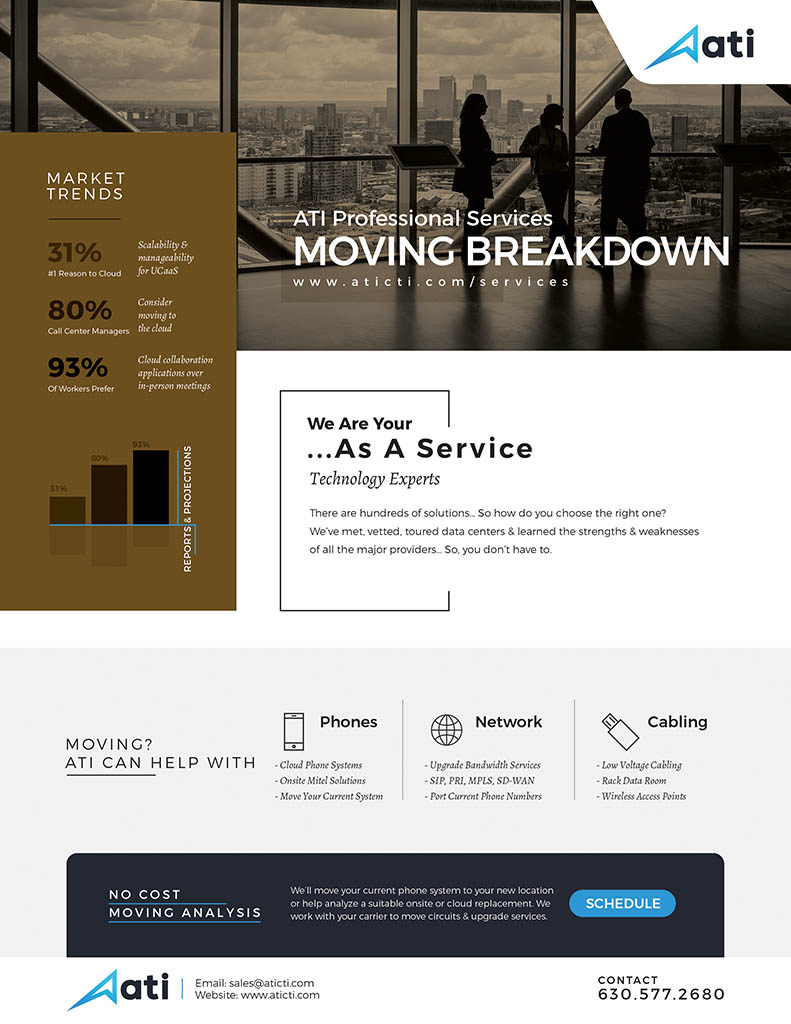 Go over our "Phone System Moving Checklist" and make sure your business is all set for the upcoming office relocation.
Now's the perfect time to reassess your business phone system, cloud, and network initiatives. There's a lot to account for, so take a look at this complimentary tech moving checklist to make sure you don't miss anything.
Phones, Network, Cabling, Data, Cloud, UCaaS.
See the technology moving checklist here
.
---
Considering the cloud? We are your …As A Service technology experts.
Schedule a Cloud Consultation
today.
There are hundreds of cloud solutions… So how do you choose the right one? We've met, vetted, toured data centers & learned the strengths & weaknesses of all the major providers… So, you don't have to. Cloud Migration? Public or Private? Security & Compliance? Schedule a
Cloud Consultation
w ATI and we'll walk you through each.
---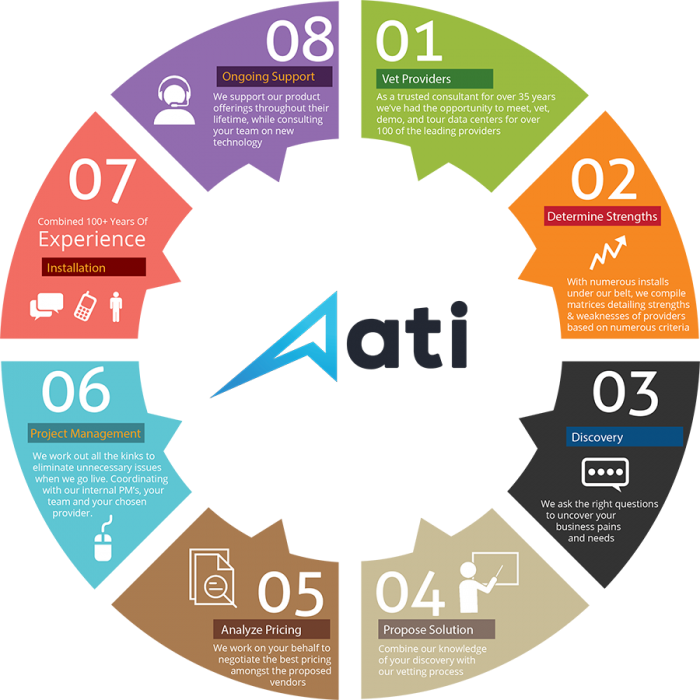 Vet Providers – As a trusted consultant for over 35 years we've had the opportunity to meet, vet, demo, and tour data centers for over 100 of the leading providers
Determine Strengths – With numerous installs under our belt, we compile matrices detailing strengths & weaknesses of providers based on numerous criteria
Discovery – We ask the right questions to uncover your business pains and needs
Propose Solution – Combine our knowledge of your discovery with our vetting process
Analyze Pricing – We work on your behalf to negotiate the best pricing amongst the proposed vendors
Project Management – We work out all the kinks to eliminate unnecessary issues when we go live. Coordinating with our internal PM's, your  team and your chosen provider.
Installation – Combined 100+ years of experience
Ongoing Support – We support our product offerings throughout their lifetime, while consulting your team on new technology
---
ATI was recently featured in the RingCentral Partner Spotlight Series. We're excited to continue our relationship with RingCentral and to provide great voice service to our customers.
View the full PR here:
www.ringcentral.com/ati-partner-spotlight-2018
ATI seeks reliable, built-in-cloud provider, finds that and much more with RingCentral Partner Program
Based in the Chicago area, ATI has been connecting its customers with the right products and solutions since 1983. Its solid base of customers has trusted ATI to recommend, sell, and install phone systems, as well as to handle all of the ongoing support, for many years.
The value of cloud—and RingCentral partner
ATI knew it needed to add a unified cloud communications solution with a customer- and partner-focused provider to its portfolio in order to meet client demand while capitalizing on an exponentially growing market. After careful evaluation to determine which solutions are up to snuff and to the immaculate standards of its ownteam, ATI chose to add RingCentral to its portfolio for its complete solution set.
Winning together
ATI and RingCentral worked together to close a complex, on-premises replacement deal within an 88-day sales cycle. How did they close such a difficult deal so quickly? ATI differentiated itself by bringing engineering resources to the table, performing consulting services, helping with the install, and finding extraneous technology costs that could be displaced with RingCentral's all inclusive solution, which replaced the customer's end-of-life Cisco system. "We provided this customer with onsite service and support and worked with RingCentral in a unique way to ultimately cinch this deal," says Mike Bergin, Sr. Sales Executive at ATI. ATI partnered with RingCentral to perform the implementation and adoption services for this customer and trained the users on how to use the new technology to ensure a smooth transition away from the previous provider.
A partner and a customer
As of last month, ATI is now a RingCentral customer itself. Previously a ShoreTel onpremises customer, ATI performed its own due diligence to determine who the best provider is in the market and who the team would be most comfortable migrating to while moving offices, and ATI determined that its ideal solution is RingCentral. "It certainly goes a long way when we talk to customers and we say 'Hey, we were with ShoreTel but now we're moving in a month and we're migrating to RingCentral,'" says Bergin. "There's definitely a good story there." So, as ATI moves into its new facilities, every team member will be on the RingCentral platform. The transition will be simple and straightforward, as well. With on-premises, it would have been extremely expensive and taken a significant amount of time—and we all know the negative effects that down time has on businesses. Fortunately, RingCentral Office® is quick and easy to configure compared to conventional on-site business phone hardware. A three-step onboarding process helps with details such as network configuration and transferring numbers. This comprehensive process ensures that cloud phone service is implemented quickly and with minimal business disruption. It's a true partnership that benefits RingCentral Partners and their customers.
Learn more about RingCentral here.
---
It's easy to let technology hinder your time management with so many distractions at your fingertips. But if you want to make time management and productivity a priority, technology can be a major help as well. From wireless solutions to cutting-edge apps and good old-fashioned (or new-fashioned) calendars, there are a myriad of ways to make sure you're managing you time better.
Do a Productivity Assessment
To get a handle on time management, it's a good idea to start with an assessment of how you actually spend your days. Time tracking applications like RescueTime will run in the background of your computer or browser to track how much time you spend on different sites and with different programs, allowing you to see just how many minutes (or hours!) you spend each day on social media, email, or other sites that may not be helping you with productivity. Time tracking apps like Toggl may also be helpful, though they require you to start and stop a timer to determine where your time is being spent.
Block Time
Once you have figured out where your time is going, consider using an application to layout how you would ideally be spending your hours at work. Time blocking can be a particularly effective way to do this with one blogger estimating it leads to 50% more productivity each week, turning a 40-hour workweek into 60 hours without spending any extra time. The process involves spending a bit of time at the end of each day to plan out the next work day, thereby dividing your day into blocks of productivity. You can do this simply, and offline, using a paper calendar or just a notebook. But for something a bit more technologically advanced, consider using a calendar app, whether it's your Outlook calendar, Google calendar, or an app like Sunrise. Schedule out your daily tasks as if they were a meeting and end
Stay Organized
It probably goes without saying that being organized goes hand in hand with time management, but it's also important to not spend so much time making to-do lists that you actually damage your productivity. Instead, set aside a small amount of time at the beginning of each day to identify 3 key tasks that you must complete before the end of the day. By narrowing things down significantly, you can need every day feeling accomplished and motivated. To Do apps like Remember the Milk and notebook apps like Evernote can be helpful in this pursuit, keeping tasks in one spot for easy review.
Improve Focus
You can't make more time in the day, but you can improve your focus during the hours you do have. Time management techniques like Pomodoro allow you to work for a set period (generally 25 to 30 minutes) and then rest for a shorter period (5 to 15 minutes). This method can actually help you to be more creative and more productive throughout the day. Use pomodoro tracking apps like Pomotodo to keep track of your time and watch your productivity increase.
Change of Scenery
Need a creativity boost and a bit more focus? Consider taking a walk or sitting outside near your office. Being outdoors has been shown to encourage sharper thinking and spikes in creativity. Plus, with the right wireless solutions, working outside can be just as easy as working at your desk. Work on your mobile phone or bring a laptop and connect to your office wireless network for portability and productivity. In the end, managing your time so that you can be more productive is not just about getting more work done. When you manage your work schedule effectively, it means you have more time to spend outside of work not thinking about what's coming up at the office. Good time management skills can actually lead to a happier life. When you let technology help you along the way, it's that much easier. If time management still gives you a few issues check out this
video
and learn how a phone system can help fill in the gaps.
---