MICLOUD CONNECT SOLUTIONS
A Hosted, Managed IP Phone Service with a Clean & Modern Experience
Mitel has taken its popular ShoreTel Sky deployment and retooled it with more than 4 million lines of new code to create its most significant release to date: MiCloud Connect.
What does this mean for you, the business consumer looking to supplement or replace existing business communication systems? It starts with new SIP-based phones, georedundant data centers, the ability to scale employees and sites with ease, and a modern user interface to create true unified communications.
Of course, "cloud" is one of the most-hyped buzzwords in the technology market today — how do you know if adopting cloud business communications is the right choice for your organization? Mitel's advanced UC solution and ATI's best-of-breed support may be the ideal fit for you if:
You prefer your IT staff tackles key business initiatives rather than manage phones

You favor a monthly OPEX model versus costly upfront expenditures and regular hardware maintenance

You prefer a communications system that's automatically updated with new features, security patches and improvements

You recognize the value of secure, georedundant data centers in addition to your onsite DR plan

You have a mobile workforce that needs access anywhere, anytime to your system across a range of devices

You need the ability to scale user numbers up or down on demand
If this sounds like you, the MiCloud Connect may be your best fit — as a Gold Champion Mitel partner, we're authorized to sell, service and support complete cloud systems or serve you preferred apps a la carte; whatever works best for your business.

Mitel Voice & PBX Deployments
Traditional onsite equipment at your offices, but far from a traditional phone system. Still the #1 way to get the most features out of your phone system. Unified Communications, Contact Center, Mobility, Conferencing, and so much more. Partner with ATI and we'll help you implement and support your system as you see fit.
Learn More
There are benefits to both a traditional onsite phone system and a hosted cloud solution. So how about picking and choosing the best of both platforms and deploying it under your terms. The best of both worlds has arrived. Also, Hybrid Apps – Put Scribe or Fax in the cloud and ditch the pesky premise equipment required for each location.
Learn More
Cindy McCain
Office Manager, Cray Kaiser
Cray, Kaiser Ltd. had a new ShoreTel phone system installed during September 2013. Mike Bergin was our sales rep. Mike did a great job listening to our needs and getting to know our style and culture. He presented the best options available for us to choose from. Once the decisions and purchases were made, we were put in the very capable hands of Tiffany Strathmann, our project manager. Tiffany made the whole process as painless and flawless as possible. She is knowledgeable and very well organized. Tiffany made sure everything was in place for a smooth conversion. She trained the entire office in large groups sessions and one-on-one, depending on the situation. She was also onsite to remedy any concerns or problems as they arose. Tiffany continues to assist us, as needed, with a very quick response time.
Mike McCabe
Orthopaedic Surgery Specialists
We purchased the ShoreTel system from ATI in 2008 to support our four locations in Park Ridge and Fox River Grove. The system has given us the seamless connectivity we needed between our sites, helped us improve the flow of calls to our appointment desks, given us greater functionality, and significantly reduced our telephone costs. From the beginning ATI was very knowledgeable, guiding us through our understanding of the technology and our options. They were very thorough during the database and implementation stages, insuring that the system was designed to best meet our needs. The switching on of the new system went off without a hitch and ongoing support and regular follow-up from our representative, Lisa Guy, has been superb. We are very pleased with the system and with ATI.
Elaine Thompson
Admin Asst, Hodgkins Police Department
The Hodgkins Police Department had the Shortel Phone system installed in November of 2013. After the initial project of finding the vendor that would fit our needs, ATI was the choice. We had worked with ATI during our initial install of the original phone system over 12 years ago. During that time we had a great working relationship with their sales department as well as the Customer service department. It is one of the best I have worked with. They are always very willing to assist with any situation and always find a resolution to the problem. During our new install, we worked with Tiffany Strathmann as our Project Manager. Tiffany was extremely organized, punctual and very familiar with the ShoreTel Phone System. Her daily work schedule went above and beyond to get the project completed as efficiently as possible. She did an excellent job training our staff, and continued to answer questions well after the install was complete.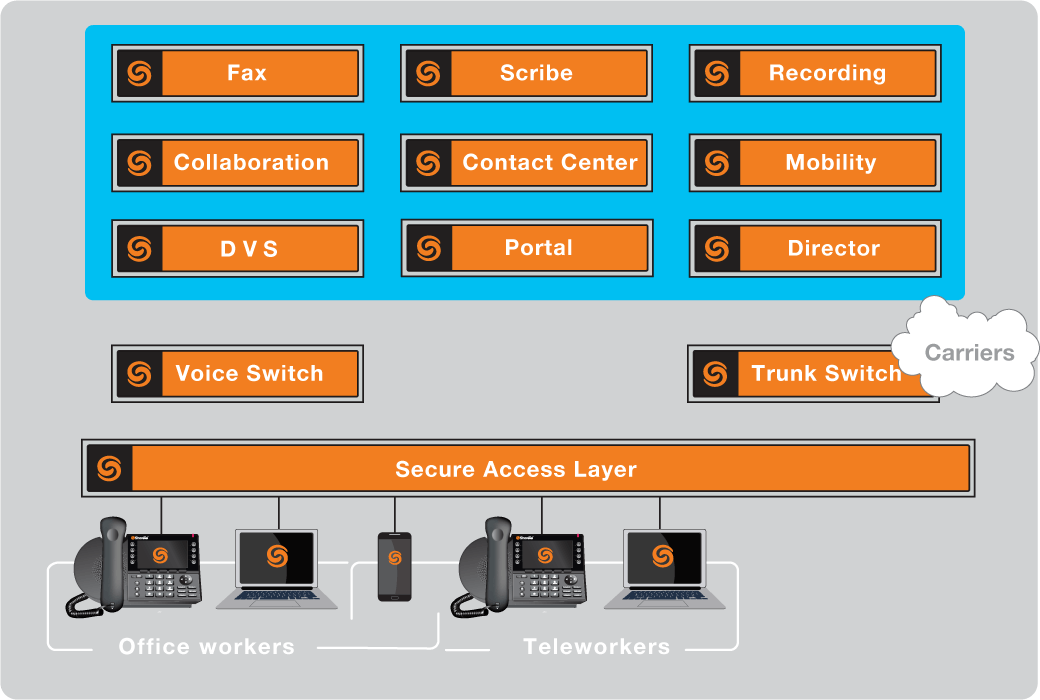 Clear crisp VoIP Audio, HD Video, IM & Presence, Mobility, Collaboration & Conferencing, Cloud Contact Center, CRM Integration, Call Recording, Georedundancy, & a Desktop User Interface
With a proven Unified Communications platform above all others, Mitel is one of the fastest-growing players in the IP cloud market share. So while the choice is abundantly clear as Mitel, the deployment will vary between Cloud, Onsite & Hybrid.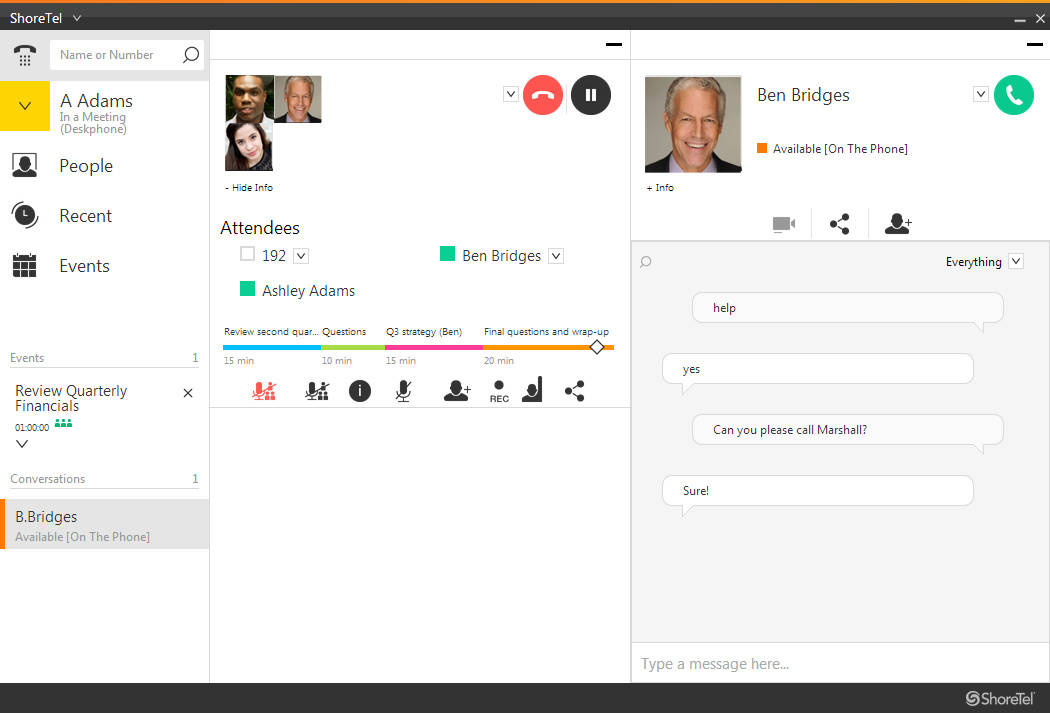 Chances are if you're reading this you're not a phone vendor. You're level of expertise lies elsewhere, and while you may have a very experienced IT staff, freeing them up for other operations would be greatly appreciated.
While there are still phones on desks (If you choose) the actual phone system lies in Mitel's secure data centers with georedundant backups throughout the USA. This means that your ShoreTel system will be both hosted and managed for superior call quality.
Take advantage of all Mitel's great offerings, including Unified Communications, Mobility, Contact Center and Conferencing without purchasing the expensive hardware all at once. With no upfront costs and for just a monthly by user and feature fee, you pay for only what you want.
Forget about your voice and internet bills as well, it's all bundled into the monthly Mitel Cloud cost. And should your data connection go down for whatever reason, your calls can be routed to your cellular devices.
Get all the reliable features of a national Cloud VoIP telephony leader, while getting the trusted local personable service of ATI. Why read about it though, when you can try the features for yourself at ATI's on-site demo room.
Key Features of MiCloud Connect
Just what are you getting when you adopt Mitel's newest solution? Take a look:
Collaboration — Easily work with other staff members on site or off, thanks to ShoreTel's crisp audio, secure messaging and HD video.

Mobility — Do your job from anywhere, anytime — ShoreTel's new desktop client can be implemented on any smart device with complete-function parity.

Contact center — Make sure customers receive the ideal experience when they contact your company by customizing how calls are answered, handled and ultimately resolved.

Advanced apps — ShoreTel cloud solutions include high-value application add-ons such as call recording, virtualization, wireless, E911 and CRM integration.

Improved user experience — The Connect cloud makes it easy for staff to leverage your UC system with a modern desktop client, smart graphical interface and all-in-one unified communications.

Robust features — Personalize call routing with five handling modes; enjoy ergonomically designed desktop handsets and never worry about upgrades interrupting service since everything is handled in the cloud.

Managed services — Straightforward billing portal accessible from any smart device, white glove service and easy scaling make ShoreTel Connect cloud easy to set up and integrate.

Business continuity — Protect your data with multiple redundancy layers and an industry-leadings service level agreement (SLA).
Bottom line? If you want to compete in an increasingly digital marketplace, you need to communicate on the cutting edge. Consumers don't want to suffer through poor call quality and cumbersome menus, while staff are fed up with legacy systems that don't play well with new apps and can't integrate with mobile devices.
The MiCloud Connect changes the game by unifying your business commutations platform into a single, adaptable solution that gives you complete control over audio calls, video conferences, security and mobile devices. IT staff are freed from the burden of maintaining legacy phone systems, while you gain the benefit of a single voice and Internet bill. Even better? You don't shell out for hardware and there are no upfront costs — Mitel takes care of everything.
The cloud has arrived; don't get stuck running outdated telecoms in an emerging digital market. Visit our on-site demo room and discover what Mitel MiCloud Connect can do for you and then give us a call — when you're ready, we're ready to get started!
Modern desktop & smart device graphical user interface for all Mitel apps

Smart features that allow you to connect easily with anyone with just a simple click

All-in-one UC means you have access to call control, mobility, SMS, video & collab
Cloud portal for simple billing & management from any smart device

No plug & pray, white-glove service w/ all installs, & a help key on all phones

Scale your operations up & down with the season & pay only for what you need
Ergonomically designed handset with 7 octaves of sound for HD voice

Personalize your call routing with 5 call handing modes, AA, VM, & MoH

Software upgrades won't cause disruption as they're done in the cloud
No single point of failure with redundancy at the network & application layers

Leverage a Mitel voice circuit with your own bandwidth for call traversal

Have peace of mind with the best in the industry service level agreement (SLA)
How To Compare & Choose [eBook]

Onsite, Cloud, or Hybrid?
How to compare & choose the right UC solution for your business. In this eBook you'll learn:

How an On-Premise PBX works & the benefits of this deployment

How a Cloud PBX operates & the reasons one might choose the cloud

How a Hybrid system works & the associated benefits

Things to consider when selecting your next PBX

How each deployment stacks up against one another
Contact ati
Want to get a quote or learn more about Mitel MiCloud Connect? Don't hesitate to fill out the form below.
Not Ready to Buy? Teach Me Till I'm Ready.
Not an urgent need, but would still like to learn more for future initiatives? No problem. Click the "Learn More" link below to sign up for periodical whitepapers, case study's, infographics, and videos. on the product of your choice.