On-Premise Unified Communications & Business Phone System
Mitel has taken their ever successful onsite solution, and retooled it with 4+ million lines of code to create their most significant release to date with Mitel Connect Onsite. What does this mean for you the consumer? Well… brand new SIP based phones, solid state 15yr+ MTBF Mitel switches, the ability to add cloud sites on top of your onsite deployment, and a modern user interface to create true unified communications. But with the cloud getting all the buzz these days, how do you know if an onsite implementation is right for you? Check out some factors below.
You have a highly skilled IT staff on hand with available resources

TCO is at the top of your mind & prefer CAPEX over OPEX

You'd like to leverage your current infrastructure

You have intl locations that the cloud might not be able to reach

Currently using POTS & PRIs & cannot acquire high speed bandwidth

Onsite has always worked for your business, why change it?

Mitel Voice & PBX Deployments
Mitel's cloud/hosted VOIP phone system offering. All the best features of the on-premise system, but installed and supported off site at a state of the art data center. This alleviates the work of your IT employees, while simultaneously providing system backup, disaster recovery, and all the newest equipment at your fingertips. Best of all no upfront Cap Ex, all on a monthly basis.
Learn More
There are benefits to both a traditional onsite phone system and a hosted cloud solution. So how about picking and choosing the best of both platforms and deploying it under your terms. The best of both worlds has arrived. Also, Hybrid Apps – Put Scribe or Fax in the cloud and ditch the pesky premise equipment required for each location.
Learn More
Cindy McCain
Office Manager, Cray Kaiser
Cray, Kaiser Ltd. had a new ShoreTel phone system installed during September 2013. Mike Bergin was our sales rep. Mike did a great job listening to our needs and getting to know our style and culture. He presented the best options available for us to choose from. Once the decisions and purchases were made, we were put in the very capable hands of Tiffany Strathmann, our project manager. Tiffany made the whole process as painless and flawless as possible. She is knowledgeable and very well organized. Tiffany made sure everything was in place for a smooth conversion. She trained the entire office in large groups sessions and one-on-one, depending on the situation. She was also onsite to remedy any concerns or problems as they arose. Tiffany continues to assist us, as needed, with a very quick response time.
Mike McCabe
Orthopaedic Surgery Specialists
We purchased the ShoreTel system from ATI in 2008 to support our four locations in Park Ridge and Fox River Grove. The system has given us the seamless connectivity we needed between our sites, helped us improve the flow of calls to our appointment desks, given us greater functionality, and significantly reduced our telephone costs. From the beginning ATI was very knowledgeable, guiding us through our understanding of the technology and our options. They were very thorough during the database and implementation stages, insuring that the system was designed to best meet our needs. The switching on of the new system went off without a hitch and ongoing support and regular follow-up from our representative, Lisa Guy, has been superb. We are very pleased with the system and with ATI.
Elaine Thompson
Admin Asst, Hodgkins Police Department
The Hodgkins Police Department had the Shortel Phone system installed in November of 2013. After the initial project of finding the vendor that would fit our needs, ATI was the choice. We had worked with ATI during our initial install of the original phone system over 12 years ago. During that time we had a great working relationship with their sales department as well as the Customer service department. It is one of the best I have worked with. They are always very willing to assist with any situation and always find a resolution to the problem. During our new install, we worked with Tiffany Strathmann as our Project Manager. Tiffany was extremely organized, punctual and very familiar with the ShoreTel Phone System. Her daily work schedule went above and beyond to get the project completed as efficiently as possible. She did an excellent job training our staff, and continued to answer questions well after the install was complete.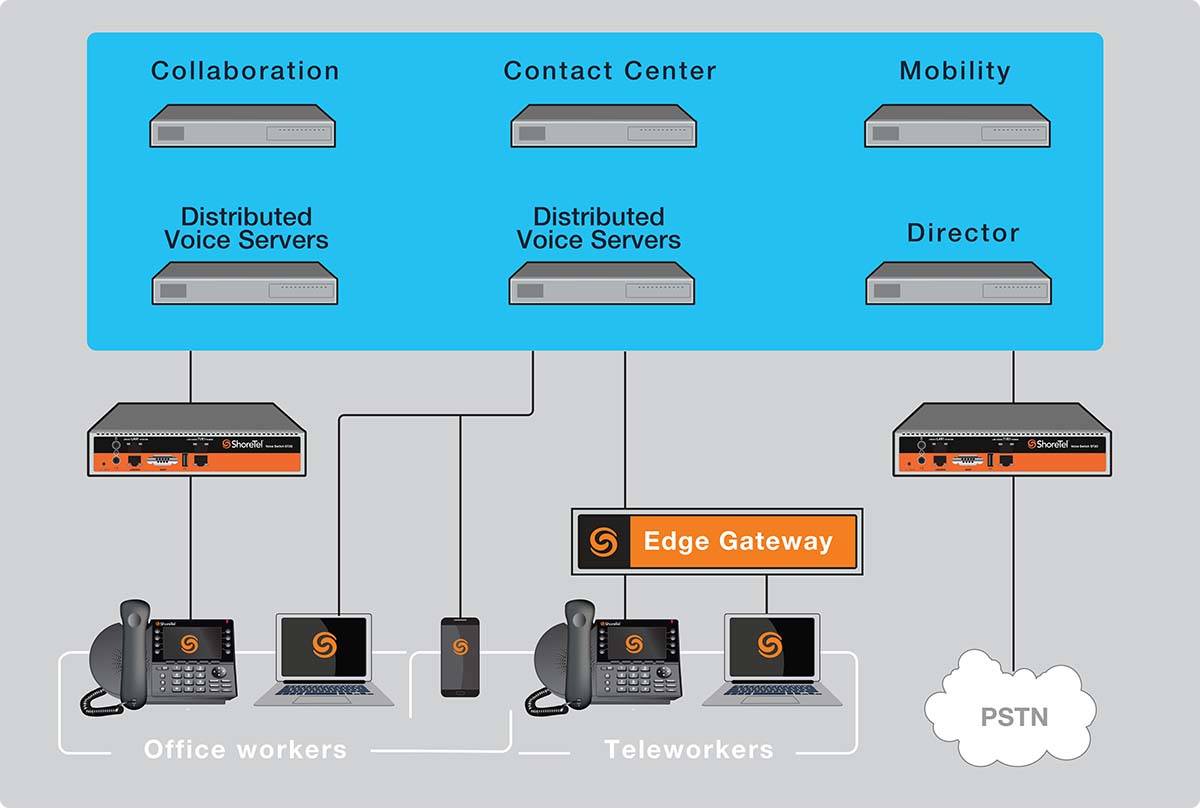 Clear crisp VoIP Audio, HD Video, IM & Presence, Mobility, Collaboration & Conferencing, Enterprise Contact Center, CRM Integration, Call Recording, Virtualization, & a Desktop User Interface
ShoreTel was built from a clean sheet of paper focusing only on the VoIP marketplace. Well what does this mean for you? It means that you don't have to worry about integrating legacy TDM/Digital technology into the IP world. Other manufacturers have to worry about how they transition their older customers into the newer VoIP universe without rustling any feathers. Therefore they keep many things similar to their older units preventing change and the endless possibilities that new technology brings.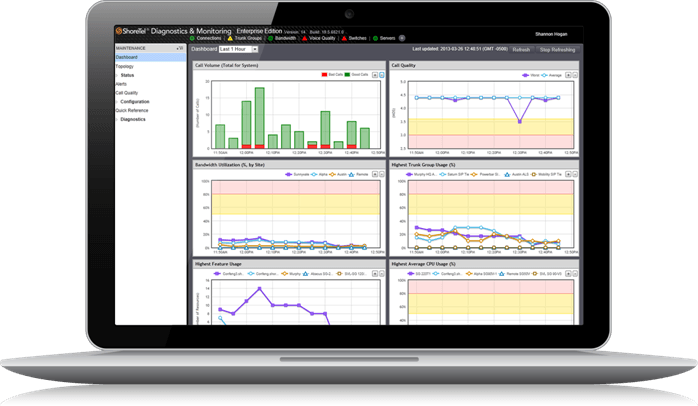 The architecture, different from most, conveys that of a single image. If you have 1 site or 100 the system is managed and supported as one. Meaning your HQ can house all the main phone system equipment, while the other sites only need a simple ½ U switch, or now even just virtual space in your VMware to manage call control. All satellite locations can still utilizes all the features of the HQ.
This single image makes it very easy to employ no single point of failure without the need to duplicate switches and servers for redundancy. With limited equipment required at each site this lowers support and management costs, contributing to one of the many factors that result in the lowest TCO in the industry proven by independent research. Never will you have to endure a forklift upgrade as your business grows from 5 to 5,000 employees or 5 to 500 sites. See if any other vendor can make that guarantee.
Your entire 99.999% reliable ShoreTel network can be managed anywhere with web access. If you don't believe you have the staff on hand to administer the system, no problem, as ATI can take care of all your day to day operations remotely from our HQ's in Naperville. However with ShoreTel's intuitive graphical user interface & Diagnostics and Monitoring tool, detailed info with simplicity can be obtained like never before.
Now that you have the peace of mind that a ShoreTel system can bring you, it's time to think about the technology that can really empower your employees to become more efficient.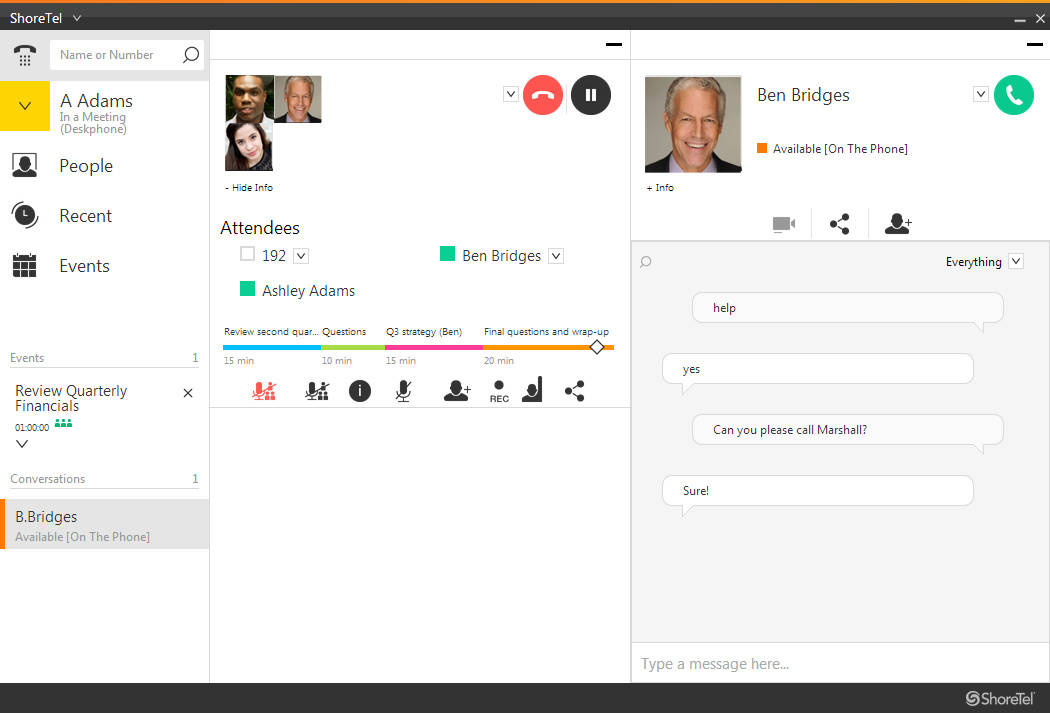 The ShoreTel "Communicator is your graphical user interface that most of your end-users will be utilizing every day. With this program your phone essentially is on your computer in a much simpler format, allowing you to do the following and much more:
Answer, Transfer, and quick Conference calls
Access VM on screen, pick and choose messages, skip to certain parts
A complete detailed History of all past made an received calls
Directory synced with your Outlook Contacts
Presence info on your coworkers
Take quick notes on each call to recall later with ease
Every vendor and manufacture can tell you why their solution is better, but ATI implores you to make that decision for yourself. Take a few hours out of your day and come join us for a demonstration in one of our state of the art demo rooms, tailored to your specific needs. Or if you can't make it out to Naperville, we will always bring our rolling mobile demo kit to you.
We've just touched the tip of the iceberg with ShoreTel VoIP premise solution; feel free to dive deeper into the flexible apps that ShoreTel offers. Or if you think a managed hosted cloud solution may be a better option, check out the ShoreTel Cloud offering.
Onsite vs. Cloud – What's right for your business?
For business communications leader Mitel, it wasn't enough to rest on the laurels of its popular 14.2 onsite platform. Instead, it has added new code, new features and new hardware to create an even better onsite experience, called Connect. But with cloud technologies — such as Mitel's
Connect Cloud
— getting all the attention in recent months, how do you know if staying on-premises is the right choice for your company?
Start with a few questions:
Do you prefer unified communications managed off site or handled by your expert team of highly skilled IT pros?

Is the total cost of ownership (TCO) top of mind when it comes to communications solutions? Do CAPEX benefits outweigh OPEX costs?

Are you happy with your current infrastructure and want to leverage its maximum impact?

Is your business mostly local or are you running international locations that may lie beyond the reach of the cloud?

Do you have access to high-speed Internet or is substantial bandwidth not available?

Are you looking to migrate your communications off site or has on-premises always delivered reliable performance for your company?
If you prefer to stay local, service your own hardware and own the infrastructure you use, then Mitel Connect Onsite backed by ati's robust and reliable service may be the best fit for your organization.
Why Choose Mitel's Onsite Solution?
Despite the growing impact of cloud computing and hybrid solutions, there are a number of compelling reasons to consider onsite communications solutions, including:
Integration — Why pay for new hardware if you don't need to? With ShoreTel's onsite offerings, purchase only what makes sense and then integrate it with existing tools.

Security — While cloud-based solutions have markedly improved their security posture, there's no substitute for the expert knowledge of onsite IT pros who have experience with your system. With ShoreTel Connect Onsite, you own and secure everything that powers your communications solution.

Response — If something goes wrong — servers fail or security is compromised — response time is critical. While 24/7 service is now the mandate of providers like ATI, there's something to be said for in-house oversight; you know your system inside and out and can decide what type of security response is the most appropriate.

Lifecycle management — What happens when hardware is ready to be de-commissioned? If you're dealing with hybrid solutions, it can be complicated to ensure a smooth changeover and no service interruptions. When you own and maintain all hardware, however, you can plan for failure and ensure you always have the right resources on hand.

Control — Between audio calls, video chat and multimedia data streams, your unified communications (UC) solution requires in-depth knowledge to properly manage and maintain. By combining best-of-breed hardware from ShoreTel and the expertise of your onsite IT professionals, you get the best of both worlds: total control over all business communications backed by rock-solid infrastructure.
With ShoreTel Connect Onsite, your company can leverage the power of legacy systems and in-house expertise without missing out on key features such as 99.999 percent uptime, single image management, powerful collaboration tools and advanced applications such as call recording, virtualization and CRM integration.
Ready to take your onsite business communications to the next level? Start with ATI — we'll help find the ideal ShoreTel deployment to match your needs and ensure you're ready to tackle the digital future of telecoms.
Contact us
today and let's get started!
How To Compare & Choose [eBook]

Onsite, Cloud, or Hybrid?
How to compare & choose the right UC solution for your business. In this eBook you'll learn:

How an On-Premise PBX works & the benefits of this deployment

How a Cloud PBX operates & the reasons one might choose the cloud

How a Hybrid system works & the associated benefits

Things to consider when selecting your next PBX

How each deployment stacks up against one another
Contact ati
Want to get a quote or learn more about document management? Don't hesitate to fill out the form below.
Not Ready to Buy? Teach Me Till I'm Ready.
Not an urgent need, but would still like to learn more for future initiatives? No problem. Click the "Learn More" link below to sign up for periodical whitepapers, case study's, infographics, and videos. on the product of your choice.